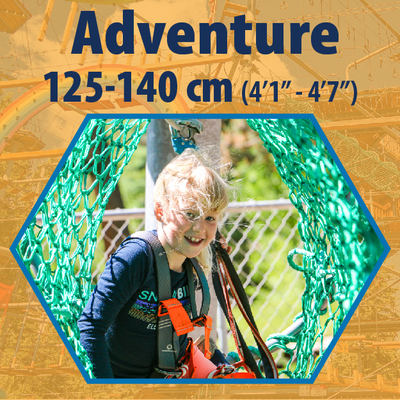 125-140cm Tall | Mon-Thurs
CA$29.00
Available
---
Sun
Mon
Tue
Wed
Thu
Fri
Sat

01

02

03

04

05

06

07

08

09

10

11

12

13

14

15

16

17

18

19

20

21

22

23

24

25

26

27

28

29

30

Not available

Not enough spots available

Available
| Time | Availability |
| --- | --- |
| June 24, 2021, 5:15 p.m. | 3 |
| June 24, 2021, 5:30 p.m. | 1 |
| June 24, 2021, 6 p.m. | 1 |
This product needs additional information, you must login to purchase this product.
Product Description
2-hour Aerial Park Admission for participants 125-140cm tall, Monday-Thursday, excluding holidays.

125-140cm tall participants have exclusive access to the ground-level obstacles of the tower.

To access the upper tower elements, participants must be accompanied by a paid, harnessed chaperone who is at least 14-years old and over 140cm tall. 125-140cm tall participants will likely struggle on several elements of the upper tower.

Ticket duration includes Ground School, which begins promptly at the scheduled start time.

Please arrive 15-20 minutes before your starting time to check-in. LATECOMERS WILL FORFEIT THEIR TICKET.

Appropriate closed-toe shoes (no sandals, no crocs, etc.) are required.

No refunds.
Product Information
| | |
| --- | --- |
| UPC | VAR_FDVQJV |
| Availability | Available |